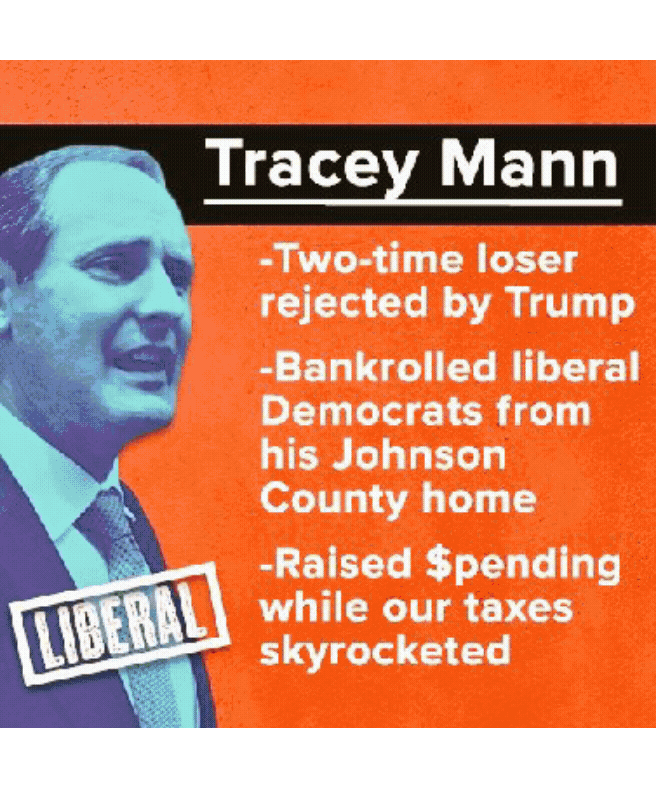 Take The Tracey Truth Test
❤🧡💛💚💙💜🤎🖤🤍💗
TRACEY MANN
THE EXCLUSIVELY ENDORSED
"SPECIAL INTEREST RRR RINO!"
According to the KC Star, Mann said he never fully stopped meeting voters in-person and doesn't enforce social distancing measures at his events. "It's just up to people," he said in a phone interview last week. "I think that this has gone on for too long, and it's way past time to open up the economy and get back to normal."
💔
Desperate people do desperate things. If the 51st Tin Mann knocks on your door without a mask
😷
or social distancing, BEWARE! The 51st appointed Tin Mann wants your vote, but doesn't care about your health & safety 1st! Don't answer your door Kansas 😷
💔
(real estate agent & 51st appointed Tin Mann)
💔
💔
The Unvarnished Truth about the Tin Mann
💔
2020 tin mann truth file blogspot com
💔
💔
The Tin Mann is at it again, and he's still singing the same song!
💔
The Tin Mann is a wannabe, career politician with deep roots in Washington.
💔
Ten years later, he's back, and he's still a WLB!
💔
Now don't get me wrong.... I think all politicians have egos, myself included! But there are a few individuals that go above and beyond, and I think that the Tin Mann is one of those. The only service he has done for our district is being the 51st APPOINTED TIN MANN, LOSING THE BIG 1ST TWICE & Most importantly being a CONGRESSIONAL INTERN, a.k.a. professional coffee maker. There are a few Starbucks that the Tin Mann could apply to, but he certainly shouldn't be our next Congressman. All the Tin Mann does is help people from Western Kansas relocate to the Kansas City area. My theory is that because the Tin Mann hasn't done anything for the district and has no qualifications to run, he is simply an elite egomaniac, aka a "SPECIAL INTEREST RRR RINO!"
💔
Where has the Tin Mann, been when the POTUS, our Governor and the great state of Kansas needed them most? This RRR RINO has been ABSENT 🤔 This RRR RINO, sat on the fence and sidelines during the impeachment. He never made a video or even released a press release much less a blog or tweet. He proclaims to be PRO-LIFE & PRO-TRUMP, but really the Tin Mann is PRO-CONVIENENT 🤪
💔
The same holds true for the SARS-CoV-2 pandemic, MIA! Until there were photo and video opportunities, he made absolutely no effort to support the CDC, gubernatorial and presidential health and safety guidelines. Tragically, there is no effort being made to protect the health and safety of Kansas voters and there is photographic evidence to support this legitimate concern and issue. His narcissistic actions and decisions are putting Kansas health and safety at risk without regard for the well-being of OUR citizens.
🖤
RRR RINOS have warped and twisted truth into propaganda thus obstructing the health and safety of Kansas, America and the world. The RRR RINOS have flipped the coin to the dark side of blame and judgment using false, religious dogma and pathetic, political plays to propagate their agenda of complete control and survival of the fittest.
🖤
Let's accept the unvarnished truth like mature adults. If SARS-CoV-2 kills us, we are zipped up in a bodybag, buried in a coffin, or cremated and our ashes poured into a funerial urn! Consequently, we no longer have to worry about constitutional freedoms, 2nd ammendment gun rights or even being PRO-LIFE. We're not free, liberated or even remotely PRO-LIFE, if we're no longer on planet Earth. Being deasced is certainty not a CONSTITUTIONAL or PRO-LIFE VALUE!
🖤
The RRR RINOS are entitled to their feelings, freedom of speech, pointed parody and political propaganda. Although they may refute hard data, they aren't entitled to their own alternate universe. Historical, medical and scientific facts are not plastic, portable tools intended for propaganda and political ploys. It's a false or nonexistent equivalency to suggest that CDC, gubernatorial and presidential health and safety guidelines violate constitutional freedoms, rights and PRO-LIFE issues. This disingenuous debate is a detrimental distraction which blocks health and safety for the great state of Kansas, The United States of America and the entire human race.
💗
FOLLOW the
CDC, gubernatorial & presidential
guidelines below!
🤍
Restoration of Real, REPUBLICAN Responsibility is a threat to the delusional drama dispersed by the RRR RINOS. Now is the moment to reclaim the REPUBLICAN values that unite all good Kansans and Patriotic Americans!
🖤
LET'S HEAL THE HEARTLAND TOGETHER!
🤎
I encourage and invite you to read, study and follow the CDC, gubernatorial and presidential reopening guidelines which are embedded and linked below.
💜
BE A GOOD KANSAN & PATRIOTIC AMERICAN!
WASH YOUR HANDS OFTEN AMERICA!
💙
STAY HOME☆STAY SAFE☆SAVE LIVES
💚
💛
🧡
❤
💙
💗
🤍
🖤
💗
I'm not perfect, but I'm perfect for Kansas!
🇺🇲
May be reprinted at will with copyright credit:
© 2020 Michaël Söetaert for Congress 2020
🏳️‍🌈
/